How to Write Better INSTANTLY and NOW: use ProWritingAid
If you're a writer, get ALL MY WRITING RESOURCES (planner, checklists, worksheets) here for free.
Or join us here:
How to write better? Writing is a struggle sometimes. I've found myself googling several times: how to write better? How to write well? How can I improve my writing skills?
All I would find was some bland advice like: write every day! Read a lot!
Oh, well.
Of course writing and reading a lot will definitely make you improve overtime (a long, long time). However, here I am, graduated, mid-twenties and still struggling a lot with this blessed English language. The worst part is that I want to be a writer and for that I need to know how to write better, and only practice doesn't lead to perfection sometimes.
How could I be sure to improve my texts definitely and for good? How to write better?
Technology, of course!
I actually was in shock when I found out that I wouldn't be struggling anymore with making my texts look polished and well-written. I wouldn't need to worry about developing unachievable skills about how to write better.

I mean, I know how to write, that's my biggest passion. However, everybody struggles with structure, synonyms, readability, passive voice, style, grammar, clichés, spelling… the list goes on and on.
The question was still in my head: How to write better? How to improve my writing skills?
It, without exaggeration, changed my life.
Disclaimer: This post contains affiliate links to products. I may receive a small commission for purchases made through these links.  Now I'm passionate about sharing the products I love with my audience, that's why I decided to go for their affiliate program. If you buy through this link, you help me keep making these articles for you without ANY extra cost for you. Thank you!
ProWritingAid
, which, in the beginning, I couldn't remember if it was called Pro Aid Writing, ProwritersaAid (I think they should at least put some space between the words, but, oh well, we are not here to judge it, just to adore it), is an
online writing editor for free
.
Which is the best online writing editor and Why is it ProWritingAid?
I use another editor as well, Grammarly, that I am sure you've heard about!
However, although I adore it as well (and I'm going to make a post talking about it soon), ProWritingAid is basically free and you can use it online, without having to download it.
Their free version gives you access to EVERY FEATURE EQUALY. You don't have to pay for any additional feature, you can have it all for free. The only difference is that you can only use 500 words at a time.
Grammarly has a huge con: their best features are all paid. And it is quite expensive, despite of being worth every cent. For the free version, it corrects only 'critical mistakes', as they call it, which are, above all, spelling. Phrase structure, passive voice, etc, this is all reserved for the premium version.
ProWritingAid, on another hand, gives you everything for free for the first 500 words! It really helps you on how to write better.
And although you might think: alright, my book has 90k words and I really don't want to cut and paste every 500 words, that's the genius part. You are going to love it so much when you get the taste of the first 500 words, that I am sure you are going to look at the premium version.
Stay with me and I will tell you why ProWritingAid is so awesome!
Another strong point of the premium is that it is not as expensive as Grammarly! It actually is PRETTY affordable, so if you don't want to spend tons of money in an editor, this is the one to go for. It also comes with a writers resource library (which honestly I am not sure what's for, but…). And if you need a plagiarism check, you can pay a little more for 50 plagiarism checks, which can be super helpful for thesis, essays and things like that. It will change the way you write, you will see how to write better with it.
I promise you, you will want to check this out so you can save yourself a TON OF TIME editing it later.
All right, enough talking.
Show me exactly why ProWritingAid is so good
, then. I will walk you through every feature until we reach my absolutely favorite and you will find out how to write better INSTANTLY.
Here I chose to humiliate myself and show you my first paragraphs pre-editing, so I could highlight how good of an editor this is.
Real-time feature: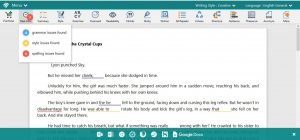 In this real-time feature, it corrects and identifies problems while you are writing there, so you can change right away, prevent yourself from wasting time and being overwhelmed when you are editing it later.
Should I have done that? I should have done that.
Did I do it? No. Why?
Now I do and I never waste time again. Errors are immediately found.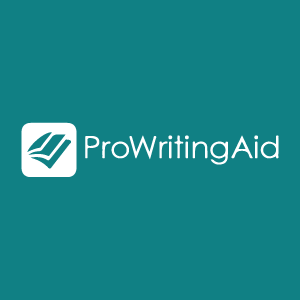 Summary:
Don't click summary yet. Let's keep going. Leave this for later. The best for last.

Style: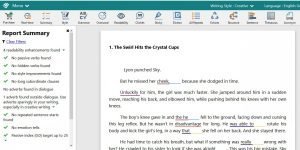 Style looks for the following aspects:
Passive voice;
Hidden verbs;
Style improvments;
Subordinate clauses;
Adverbs in and out dialogue;
Repeated sentence starts;
Emotion tells;
Literally, everything you need to know to get your writing style better and sometimes you just can't see these things. You are 'blinded by love' and you pass your eyes through the text without being able to find it. So why don't you just let technology do it for you?
Grammar:
In grammar, it points all your mistakes (it was… it was just typos, okay?), and since it's only a software and a machine, it won't laugh at you like your mean fifth-grade teacher! Or your mean human editor later! Isn't it marvelous?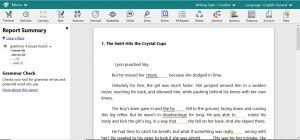 And look, it highlights the mistakes on the text for you, so you don't have to do it yourself!
Overused:
This is one of my favorite features because I feel like when I'm writing I never express the feelings enough so I just like to point out how the characters are feeling all the feelings they felt.
It is quite surprising what you can find out here.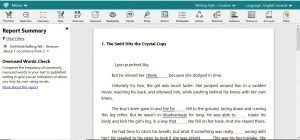 It is pretty hard to see the overused words because you are simply too used to them, otherwise they wouldn't be overused.
And I don't see any other editor putting this in such an organized manner like this.
Readability:
This might be one of the most important features.
Let's say you are writing for teenagers or even children. You, as an adult, know what 'glimpse' and 'overwhelmed' means, but do they know what these words mean? Or maybe you are writing an essay and you want to impress your teacher. You want to create more complex phrasing.
Prowritingaid compares your text with many others they have in their database and they also consider your writing style, that you can select, so they give you accurate data.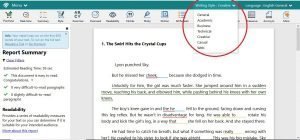 This feature is something you literally can't do by yourself because you are not a computer that is able to analyse milions of other texts all in once and writing style data.
So if you want to use
ProWritingAid
for only one feature, choose this one (just kidding, there are many others super cool as well, you can't choose).
Clichés:
If you have been reading my blog for a while, you might know how I feel about clichés.
I want to die when I see a good old cliché. When the writer didn't even try to get rid of it.
THIS feature analyze cliché phrases. It might be out of context, however, it hits you hard when you realize you might be one… CLICHÉ WRITER.
Thanks to this amazing software, you don't need to worry, because it will point it out and you will be able to change it.
*sweating nervously* it is saying there that I have a cliché but… this has to be wrong… me? clichés? NEVER!
Sticky: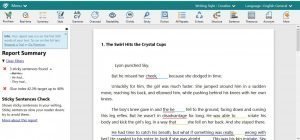 As you guys can see, I score really bad in that. But there's a reason for that!
I didn't even know this was a parameter
I should worry about! Prior to
ProWritingAid
, I had NO IDEA that this was something to worry. Yay, one more thing for my to-worry list. Oh, wait. I don't need actually to worry, because it corrects it for me now!
Diction: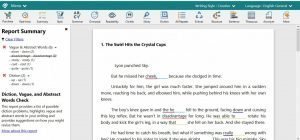 This helps with abstract and vague words, which every writer knows must be avoided, otherwise, you might fall into tell-not-show horrors.
All repeats:
Just like the name says, it helps you see all the words you are repeating and it will help you decide the ones that you want to avoid.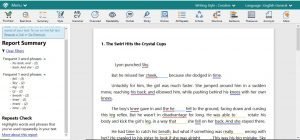 Or maybe you even want to repeat some word more often to give it emphasis.
This is another feature that you can't do by yourself, or are you going to go and count all words and make an excel sheet with it?
Echoes:
This one is like Repeat, however, it shows you the repeated words close to each other, which is not very good. And it is also something that you can't do without a software to help.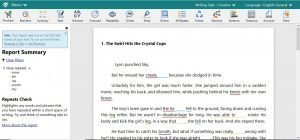 Structure:
I know I've said it a lot, but this one is the best feature yet.
It highlights your structures and it compares with other texts data from your genre.
Man…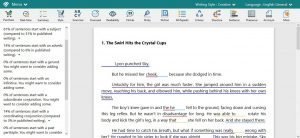 It is analysing:
Sentences that starts with a subject and it compares with other published works;
Sentences starting with an adverb;
Starting with gerund;
Starting with infinitive;
Starting with a subordinate conjunction;
Starting with a coordinating conjunction;
Starting with past participle;
Starting with a verb followed by a subject;
Tell me, have you ever considered looking into these?
I didn't.
And this greatly helps you to diversify your structures, so it makes your text more interesting and helps you to control its speed.
Sentence:
Now, just look at this and tell me if it is not awesome: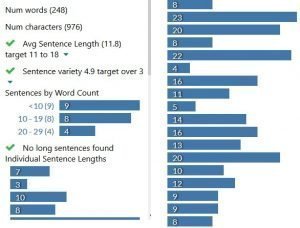 It gives you a graphic analysis of your sentences so you know their lengths and you can diversify it again.
This is very important to give your story pacing.
Nobody likes to read a lot of sentences with the same length over and over.
Thesaurus:
Are you tired of going to Google every time you need a synonymous?
I know I am. That's why ProWritingAid is so helpful as well. You don't need to go anywhere else to find the words you need.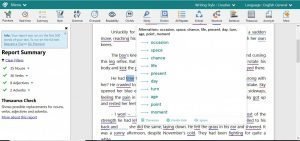 More: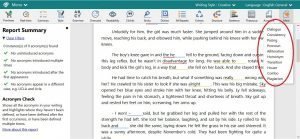 Is there more?
YES! It mesmerizes me as well.
It still checks:
Acronyms;
Dialogue;
Consistency;
Pacing;
Pronoun;
Alliteration;
Homonym;
Transition;
House (you edit this feature so it will check only the aspects that you want, it is custom);
Combo;
Plagiarism.
Pretty amazing, huh?
And the best part is that you have ALL THESE for FREE for 500 words, which I think it's the great differential for this.
After you've tested for a while, I can guarantee you that you will want to buy it, since it's not that expensive (you definitely spend more money going out for a cinema night or for a pub) and it is super helpful.
And if I still haven't convinced you, here comes the best part.
Yes, the part we skipped.
The summary:
I can't even begin to highlight everything that it tells you in this. I will let it speak for itself with images: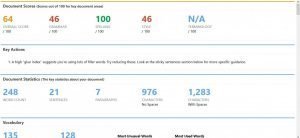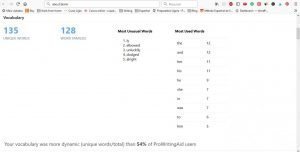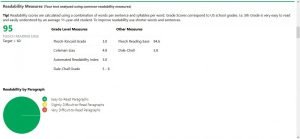 And much more. This is only the beginning.
But I think I gave you a gist about the full analysis you will be able to get FOR FREE.
If you are interested in downloading the rest of my analysis so you can see it better, you can download it here.
So, I hope this was super helpful to you.
I know ProWritingAid changed my life.
This blog post was corrected there. My book was corrected there. Everything that I write is corrected there now.
That's why I'm sharing it with you. Try it for free and if you fall in love with it like I did, you can think about upgrading, especially because it's not expensive at all.
If you're a writer, get ALL MY WRITING RESOURCES (planner, checklists, worksheets) here for free.
Or join us here: