How to Use Twitter to Attract an Audience
How to Use Twitter to Attract an Audience.
If you're a writer, get ALL MY WRITING RESOURCES (planner, checklists, worksheets) here for free.
Or join us here:
If you know me, you probably know how much I LOVE Pinterest and Twitter.
Pinterest works better for me traffic-wise. It's my biggest traffic source by far.
However, Twitter has the most amazing writing community online.
Have you ever heard to go where your peers are?
So, I'm telling you, writer, they are on Twitter.
I've tried it all, Tumblr, Facebook Groups, Wattpad. Twitter is by far the best because people there are helpful and genuine.
I'd never seen anything like that.
Before I started there, I had created Twitter only to be "one more" social media. Now, it's my writing home. I go as far as saying that I wouldn't have finished my book without them. EVERYBODY is SO HELPFUL and motivated. They have goals but nobody tries to be better than anybody, they all help you, they all give you a nice critique.
On Facebook, there are A LOT of writers that usually just like to criticize you and put you down.
Also, Twitter is the most fun of all social media and you don't have to pay ads to be seen.
I was expecting NOTHING when I went there for the first time. When I got to 51 followers, I tweeted thanking them because I was actually VERY HAPPY to have got to 51, I'd never even think to get that far because I had had my personal Twitter for years and it had 91 followers only.
And then, people from the amazing #WritingCommunity retweeted me, started following me. I got 500 followers in ONE DAY.
It was one of the best days of my life without exaggeration. I couldn't sit still. I couldn't stop walking around the house. I could barely sleep. I WAS SO HAPPY!
I had NEVER SEEN SOMETHING LIKE THIS!
And, now, I have over 5400 followers with 2 months blogging and there.
The best part? It is not about the numbers! They are REAL, AMAZING, INSPIRATIONAL PEOPLE!
I can't believe how lucky I am, really.
I HAD to create this blog post for those of you that don't know the Writing Community still.
Here is proof of how nice they are: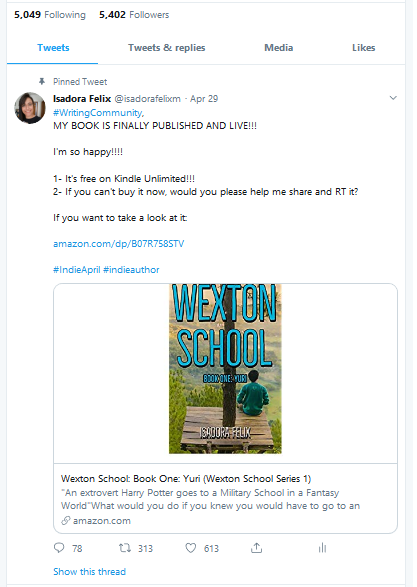 LOOK AT THOSE NUMBERS when I released my book!
The support was absolutely astonishing to me!
I was so humbled by it!
I also LOVE to support them. I've bought 3 books from them and planning to buy much more. We all support each other.
Use Twitter to Attract an Audience: I'll tell you what to do now to have good interaction on Twitter, so you can also join our #WritingCommunity
1. Obviously, create a profile. Introduce yourself on the tweets, ask for help, say that you're new here. Don't forget to tag #WritingCommunity.
I am SURE people will help you. Also, tag me! @isadorafelixm. If I see you (especially if you mention you've come from here), I'll retweet you and try to help you get started.
Don't be shy! I swear to you that you'll be welcomed.
2. Engage frequently!
You don't need to be addicted like me (okay, but if you could, it would be nice), who tweets like 20 times a day, but try to be there every day. Write a tweet for the #WritingCommunity. Ask questions like: what is your WIP (work in progress) about? What is your favorite part of writing? What do you want to accomplish as an author?
Engage with people! Answer people that answered you! Be PART of the community.
DON'T just drop your links and leave in a spammy way. It won't work and it's NOT nice.
You can also ask random questions like their favorite color, favorite number, hobby, if they have children. It is really a community of people with writing as their common goal. We just love to be friends!
Tip: tweets with GIFs are great for catching attention! Also, ask them to answer with GIFs as well! People love this!
3. Use the right hashtags;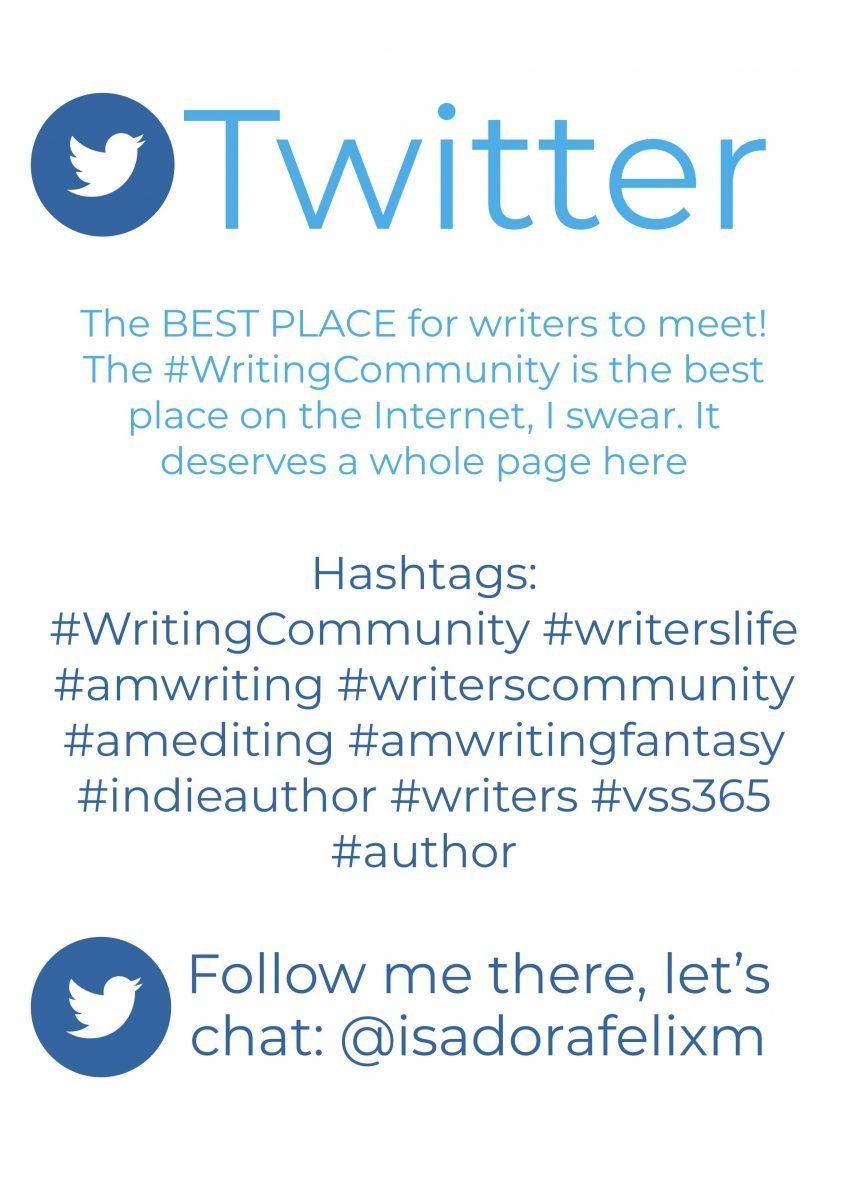 In every tweet, try to include 2 or 3 of these. Don't use them all, it will look spammy!
#WritingCommunity
#writerslife
#amwriting
#amwriting + your genre (#amwritingfantasy)
#writerscommunity
#amediting
#indieauthor
#indieauthors
#writers
#author
Also, #vss365 stands for Very Short Story 365 (every day). It's a nice hashtag where writers write a story that fits in one tweet every day! Be part of that to allow your imagination to take place!
This tip is part of my Marketing Guide. You can get if complete here!
4. Answer people on your feed, talk to them!
We want people that ENGAGE with each other. We don't want random people that never go there. So, answer writers, have fun, make friends, connect!
5. Follow every writer back.
It is a GOOD practice, it builds your community, this is NOT Instagram where is nice to have a lot of people following you and not follow anybody. You want to HELP people as well as being helped. It is NOT NICE to follow and then unfollow. People will not want to follow you if they see that you don't follow anybody back. It's egoistic, ugly, and nobody will want to help you (including me).
Again, we want to build a COMMUNITY of REAL human-beings that are also writers. We want supportive, inclusive people.
I don't follow back only bots and weird guys that want to use Twitter as Tinder.
6. Your description MUST say that you're a writer or author, or part of the writing world.
Unfortunately, there are A LOT of bots and random people on Twitter. Writers usually only follow writers back (myself, for instance). So, make sure to state that on your bio, otherwise, people may think that you're just a random person and not a writer. This is very important. Make it clear.
Use Twitter to Attract an Audience
That was my tips! It is great to know that there is such an amazingly supportive group online! I hope you can be part of that too!
To start with, follow me there so I can help you get started! I mean it, don't be shy, after all, it's the Internet.
If you're a writer, get ALL MY WRITING RESOURCES (planner, checklists, worksheets) here for free.
Or join us here: