Neil Gaiman Masterclass Review: Is it Worth? Fantasy Writer
Hi, guys. Today I want to talk with you in detail about the Neil Gaiman Masterclass. I've watched this class so I could improve and learn with the Masters.
If you don't know what I'm talking about, Masterclass is a site that provides great classes with renowned professionals in a lot of fields. If you want to know more, just click the link here. Also, I've written a full review on all Masterclasses in this page here.
I think Neil Gaiman's Masterclass is super worth it.
I think you guys can tell by the blog that I really enjoyed it since I have banners all around and I indicate it in every post.
That is because it really helped me see the writing world in a different way.
Here I want to tell you IN DETAIL what you can expect from this class. I'll give you just a tad bit of spoiler from it. Don't you hate when you go look for a review and you can barely get anything from it rather "it's good, buy it"? That's why I want to really give you an overview of the things that I liked the most and what you are going to get from this class.
If you learn a lot from this post, know that this is nothing but some details that the class gave. What you are going to learn there is much deeper. If you liked this post, imagine how much you will enjoy and learn from the full class.
Disclaimer: This post contains affiliate links to products. I may receive a small commission for purchases made through these links.  Now I'm passionate about sharing the products I love with my audience, that's why I decided to go for their affiliate program. If you buy through this link, you help me keep making these articles for you without ANY extra cost for you. Thank you! It will still be the same price to you, the only difference is that you help me a lot with this!
Without further due, let's begin:
The class content
In Masterclass' website, you can see what all the 19 classes will be about. You can check it here to see what they are saying on the site itself: Neil Gaiman Teaches The Art of Storytelling
I'll write the title of the classes here for you:
Introduction
Truth in Fiction
Sources of Inspiration
Finding your voice
Developing the story
Story case study: The Graveyard Book
Short Fiction
Short Fiction Case Study: March Tale
Dialogue and Character
Character Case Study: October Tale
Worldbuilding
Description
Humor
Genre
Comics
Dealing with Writer's Block
Editing
Rules for Writers
The Writer's Responsibilities
Okay, now I'm going to give you the spoiler of each class with my personal opinion about it, so you can judge for yourself if you think it's worth it or not.
1. Introduction
Nothing more than you would expect from an introduction with the differential of being very pretty. Neil Gaiman Masterclass has everything to make it classy. The classical music, the ambiance, everything looks so expensive, well-made, well-directed, and thought. I felt like I was entering a very beautiful room with Neil, in which he would teach me particularly, offer me some tea, and we would discuss writing while listening to great classical music. This is the feeling of Neil Gaiman Masterclass. It is beautiful, well-directed and it feels like a private lesson.
I actually felt like Neil was an old friend of mine after seeing these.

2. Truth in Fiction
Now, prepare to be hit with the truth. Duh. I think he starts with this topic because it's fundamental.
Neil tells in this class about how the only way for you to make a relevant story is for you to tell the truth.
He says that you are telling your reader something honest that you hope to stay with them using lies, using fiction. You are choosing a very important lesson that you need people to get but they might not get in any other way.
All fiction must be honest, at least for you. Every success he has had was because of how honest the story was. If you have nothing to say, if you don't say true things because you are afraid of opening yourself up, afraid of being read, you won't be successful. You have to be as honest as walking down the street naked.
The story must feel uncomfortable for you. It has to go deep. And touch people. Because when you get specific, it will be relatable.
How to make it? How to write a true story? How to be honest? What does that really means?
This is what you are going to find out when you watch: Neil Gaiman Teaches The Art of Storytelling
It also comes with exercises and techniques in pdf, so you can train.
3. Sources of Inspiration
Neil Gaiman Masterclass talks about how to get inspiration and how this is the one million dollar question. Where does writers get their ideas?
He explains about the Compost Heap. I tell about it here. A Compost Heap is like an area in your brain where you'll put every inspiration you have from all media. Music, things you saw, things you've read when you were a child, smells, trees, flowers, a theme park, everything that you've paid attention once and made you feel something. This is a Compost Heap and it is where the inspiration grow.
I'm not going to tell you any more about this fascinating concept.
If you really want to understand how to grow your brain Compost Heap, and how to really understand inspiration:

4. Finding your voice
"Your voice is the stuff that you can't help doing". And for you to find that voice, you have to write. A lot. And also read. Pay attention to other writers.
Neil Gaiman Masterclass explains about his own voice. How he found it. How it was vital for him. And he teaches you exactly how you can find your own.
In this class, you are also going to get a pdf that will come with a valuable exercise that really can change the way that you read forever. Because when you are a writer, you can't read as an audience, you must read as a craftsman. This is vital and it is explained there.
5. Developing the Story and 6. Story Case
"And then what happened?". In this class, he explains how this is the vital phrase for keeping your reader turning the page. Questions.
This is what sets a story that is read until the end from a story that the reader couldn't care more about.
But how to develop a story that will make it? How can you achieve such a hard thing to do?
You must learn this as soon as you can, otherwise, you might fail in developing that story.
Here he also reads The Graveyard Book with great passion, in a very artistic way, in each the quotes are highlighted, the music creates the ambiance, and it feels almost pure magic.
Neil Gaiman Masterclass illustrates how the characters in the book all have things they want, all the time, but they don't get it, and that creates the conflict that pushes the story.
But this has to happen on every page, not only in the climax, as some writers tend to do.
You are really going to understand how to achieve this and create a wonderful story. Neil Gaiman Masterclass will explain that to you.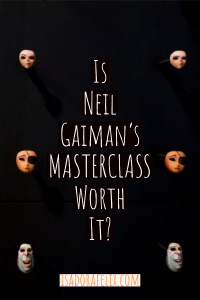 7. Short Fiction and 8. Short Fiction Case Study
Prior to this class, I basically did not understand how to make a good short story.
I kept wondering how a whole interesting story would fit in so little space.
After this class, all I want to try now is to create a short story. Because he teaches you exactly how. And I will give you a spoiler about how to do it but to really get the technique, you are going to have to watch it, all right? So there you go:
Your characters must have existed for their whole lives, and this story will show just a bit of it. You can't feel like they have just been created to be there;
Your short story is your climax chapter of a long story.
There you go. I will tell you no more. If you want to understand what these above means, you must watch it. It also comes, as always, with practice exercises. What to do if you want to really learn to create a short story that will be successful?

9. Dialogue and Character and 10. Character Case Study
This is one of the most important classes. He tells you how to create a great character. As you might know, to me this is the most important part of a successful story. I wrote a blog post about that in here.
I agree with Neil when he says that character is dialogue. Your characters must have a unique voice. If they all sound like each other, you are killing them.
He also gives an example with a story he wrote. In this, he shows how the characters all have different voices and how they evolve through the story.
You will really understand how to create a unique character, enhance your dialogue, and basically master the art of storytelling. With exercises in pdf, as usual.
11. Worldbuilding
When you are worldbuilding, you are playing God. If you want to create a fantasy world that works, it must have reality in it. However, if it is all reality, it is not fantasy.
It has to have details, you have to do your research. And, most importantly, you have to remember the rules that you create for your world.
I can't teach you how to create your world.
But Neil can. So go, go, go. Learn how to be successful.
12. Description
Remember the "show, don't tell" rule?
Well, Neil tells you to forget about it.
It surprised me because I used to take this rule as unquestionable.
Neil has a totally different view on it, and he explains how to create vivid descriptions using details, telling when you need to tell, showing when you need to show, and making it interesting. He gives an example from Neverwhere. I was impressed by this because I learned so much.
13. Humor
Personally, I really want to try comedy so I was very happy to see this class there. I am going to put a quote from the class here:
"Humor is that moment where you see something
that you've always thought, but now somebody has
articulated it. And they've articulated it in a way that
you've never seen before. And sometimes it's
just the joy of the unexpected." Neil Gaiman.
And then he gives a very funny example from a book. He teaches you in detail how you can create the humor. And, then again, more writing exercises for you to practice!
14. Genre
I found out that I didn't understand about genre prior to this class.
Neil Gaiman Masterclass explains the difference between a Western Fiction and a fiction that has cowboys in it.
He tells you that if you don't know what to do properly, you might end up writing a musical with no music in it. And this will really betray your readers. This could mean the failure of your story because you are not delivering what you've promised your readers.
I had never thought about that.
If you want to really get what I am talking about, go there: Neil Gaiman Teaches The Art of Storytelling.
15. Comics
I'll never write a comic, probably. Maybe one day if I learn how to draw. However, here he explains the importance of choosing the right media to deliver your story. Some things you can never say in prose, some other things you won't deliver in comics. Who is best to explain it to you than Neil Gaiman himself?
16. Dealing with Writer's Block
I have a post article about dealing with writer's block. I thought I knew what I was talking about.
Then Neil comes and smashes it again.
He tells you that it is very hard to believe that this is a thing. If you believe that you have "the illness writer's block", you are basically admitting defeat. Okay, I have "The Writer's Block", so I won't write.
A story is not made only from good days.
A story is finished when you write through good and bad.
And then again he gives you exercises from moving to point A to point B.
17. Editing
How to edit efficiently?
This is one of the most important parts of a writer. To come back and edit. Make sense of that big story. Here he teaches you methods to do it, and I'm just going to put here a little spoiler about it:
Leave it for some time, and then come back. Pretend you've never seen it before. Imagine that you are the reader.
The rest you are going to have to find out for yourself.
18. Rules for Writers
This was a punch in my face.
Just one week before this class, I was wondering if I should publish my book or if I should just wait a little bit more. "It is not ready yet", I would think, even though it is fully edited.
I was just too afraid of letting it go to the world.
"I'll do it when it is better, I don't want to waste a good story". That was my thought.
And here comes Neil with:
"People don't normally list sending a story out into the
world as one of those acts of bravery up there with
standing up to armed robbers or wild dog attacks.
But really, they really are." Neil Gaiman
It almost made me cry.
And I know that I am not the only writer who is too afraid of letting the story go. Of sending it to publication. Or of publishing it yourself. I know that there are a lot of people out there, maybe even you reading this post now, that is expecting the perfect moment. But it may never arise. You may put your story in your drawer, and never look back at it.
But if you don't let it go, if you don't publish it, it will never be anything. You won't be a writer. Your story will never deliver the truth.
This is one of the most touching and valuable classes.
19. The Writer's Responsibilities
Last, but not least, old Neil put the best, most shocking, to the end.
He tells you about when he found out that someone had committed suicide holding Sandman.
Yes.
"Did I do it?", was his question to himself.
What are the writer's responsibilities?
That's it!
So, you guys, I hope I have convinced you how this class can be game-changing.
I actually strong advise you to go for the whole package of classes from Masterclass because there are other brilliant writers there. I'll soon come up with other reviews from other classes that I will watch. Also, you can read my post about Masterclass review as a whole.
It is 90$ for Neil's class. But if this class helps your story to succeed because it will make you a much better writer, and if you sell each book (on Amazon, for example) for 5$, it will pay itself in only 18 books sold. If this makes you an incredible writer, and I really think that it will you evolve a lot, selling 18 books it is just the beginning. You can become a best-seller and sell thousands.
Also, if you decide to buy it for 180$, every class for a year, it is only 15$ per month. You spend way more than that going to the cinema once a month.
Invest in yourself!
I did it and I regret nothing. It actually motivated me to even start this writing blog.
Disclaimer: This post contains affiliate links to products. I may receive a small commission for purchases made through these links.  Now I'm passionate about sharing the products I love with my audience, that's why I decided to go for their affiliate program. If you buy through this link, you help me keep making these articles for you without ANY extra cost for you. Thank you!
Now, tell me what you think! Did you enjoy the class?
If you're a writer, get ALL MY WRITING RESOURCES (planner, checklists, worksheets) here for free.
Or join us here: