Okay, we all know what type of times we're living in right now, and it's a reality that we'll have to deal with for a long time, so we need to incorporate learning about germs for preschool. It's different than what you and me had to deal with when we were in Pre-K, but, hey, what can we do, right?
Some kids that were born in 2020 lived their whole lives with the Covid-19 reality. And the way things are looking now, it seems that this reality will stick around for a long time. So, germs activity sheets for Pre-K will come in handy for the foreseeable future.
And it's always good to learn about virus, bacteria, hygiene habits and etc. I feel making this a part of the curriculum is essential.
So, here you'll get the best Germs Activities Sheets for Pre-K, all made by me. I'll give you the inspiration but if you want to get the copies all done, ready for you to download, head over to my TpT account. This helps me keep this blog running with free ideas for activities for Pre-K for you guys. At the bottom of the page, you'll find this activities BUNDLE.
Germs Activities Sheets Ideas For Pre-K
Germ Alphabet Tracing Activity Sheet for Pre-K
The first activity sheet idea is this fun and simple alphabet tracing germ activity sheet for pre-k. I don't know about you, but our school makes us train the letters daily, so they can learn to read and write in kindergarten. Every week we must stay on theme, so, why not make your life easier with some germ stickers on a simple alphabet tracing sheet for pre-k?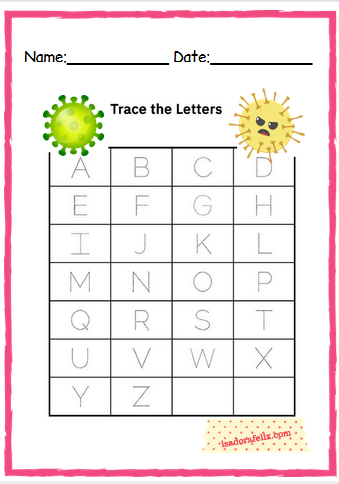 This is what we used. Again, you can get the inspiration for free, but if you want the ready to download, super easy, super accessible germ activity sheet for pre-k, you can get it HERE.
Germ Letter A Activity Sheet Practice for Pre-K
This activity was a success among the kids. They aren't used at forming words just yet, so to use a letter in a word that they just learned was excited. I asked them to guess what word it formed and they did it brilliantly, which is a bit sad if we think about too much: they know the word corona virus, mask, and bacteria like they know their names. However, it was great way on how to teach about germs for the pre-k students.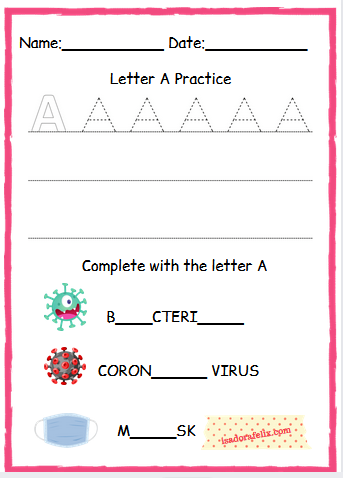 Again, you can get the inspiration for free, but if you want the ready to download, super easy, super accessible germ activity sheet for pre-k, you can get it HERE.
Germs Math Activity Sheet for Pre-K: Number Formation Practice for Pre-K
Again, our school demands us to practice the numbers everyday. One thing that's huge for 4 year-olds is that it's their first time actually drawing the numbers, so I much prefer this type of activity than the ones where they only trace on top of the numbers. It's very important for them to start practicing to form the numbers and letters on their own if they want to be doing it successfully by the end of the year.
And it's simply easier to practice math and stay on theme when using drawings that match.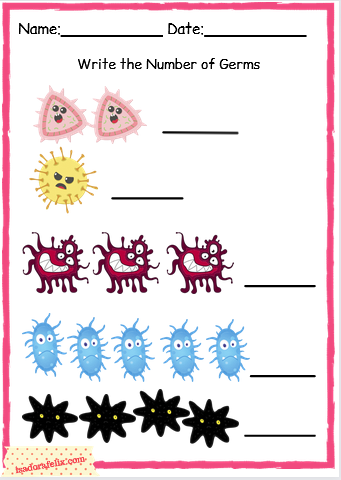 You can get this Math Activity Sheet right HERE.
Germs Math Activity Sheet for Pre-K: Tracing and Counting
Another math activity sheet for pre-K, this one where they can practice tracing the numbers and counting the amount of germs. We also discussed where the germs were and how they spread (like the boy sneezing in the image). My student even said that she had no idea "rubber ducks" could have germs, which was adorable.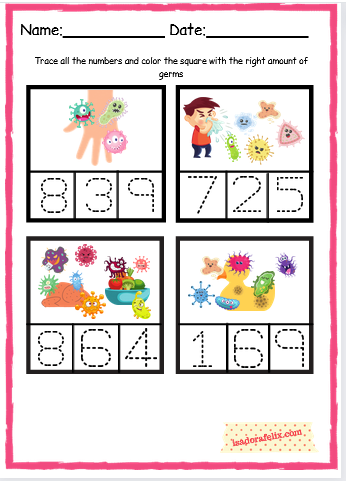 Get yourself this beautiful activity, ready to download, in HERE.
Germs Math Activity Sheet for Pre-K: Number 2 Activity Sheet Pre-K
More Math!
These kids nowadays do as much Math proportionally as people in engineering schools.
Just kidding…
This week we were practicing number 2, which they find particularly tricky, as it has all the curves. It's always good to practice this number at least once a week.
This sheet is complete: it has tracing, it has drawing the number, identifying the number, and counting the germs.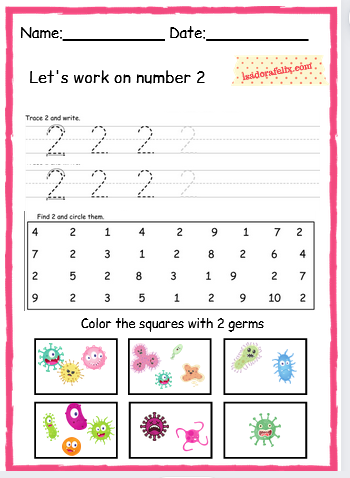 Get yourself this brilliant activity HERE.
Germs Shapes Activity Sheet for Pre-K: Shape Recognition and Cutting Skills Practice
This one was a pretty cool activity that the kids loved. Pre-K students are required to learn how to use the scissors and the glue on their own, and the only way to practice those fine motor skills are by LETTING THEM TRY by themselves. I know it sounds daunting as teachers. Kids end up cutting all wrong and it's a general mess. *Sighs* but it's the reality of early childhood education, so let them be!
This sheet also practice shape recognition, which is also required by the curriculum. The kids loved to see all the different types of germs. It also taught them that germs have different shapes, sizes, and types. It's a good idea to show them flashcards with real bacteria on them, so they can have an idea what it really looks like in real life.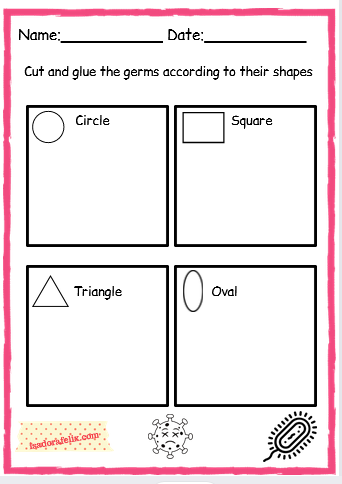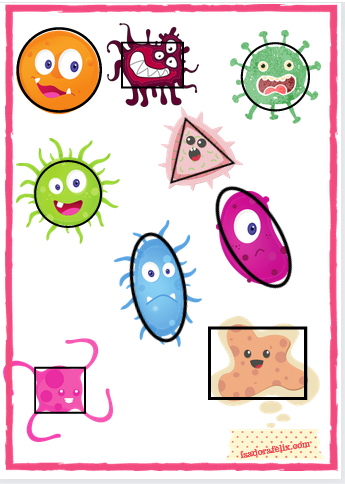 Get this awesome, amazing, wonderful activity sheet HERE.
Germs Letter Tracing Practice Activity Sheet for Pre-K
This is one of my favorite types of activity for pre-K because they get to practice letter tracing, letter drawing, and also letter recognition. They're also writing a complete word, and I always ask them to guess which word they're writing. We try to make the sounds together and they get really excited when they find out which word it is. It's really exciting.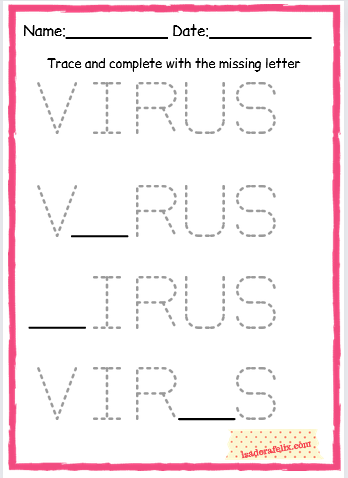 As always, you can get the ready to download sheet HERE.
Germs Letters Activity Sheet for Pre-K
Here's a little complex letter activity sheet. They have to trace the letters to the word and they find each letter in the word maze. It's a little hard for them to find the letters in the maze, which makes it a good activity to put those little brains to think. They can even color the germs at the bottom of the page.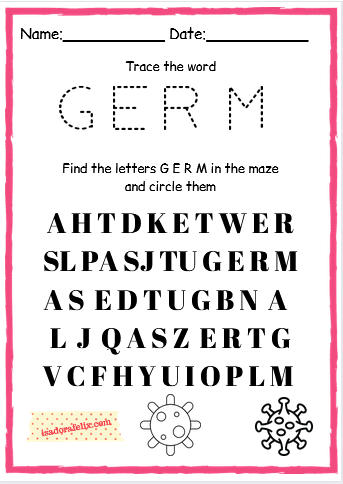 You can get this activity ready to download in HERE.
Germs Coloring Activity Sheet for Pre-K
Lastly, we have a germ coloring sheet for pre-K. They can experiment with different colors and make their own germs. You can do a competition to see who has the most creative germ and even put this on the wall to show everyone's germs.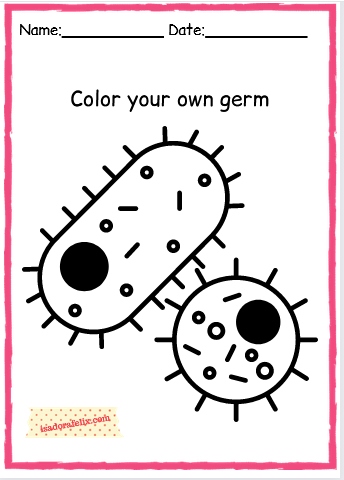 You can get the activity in HERE.
The Whole Bundle: Germs Activities Sheet for Pre-K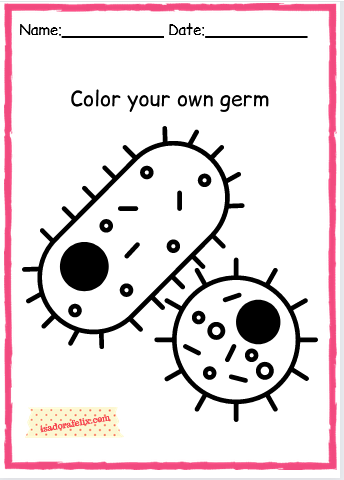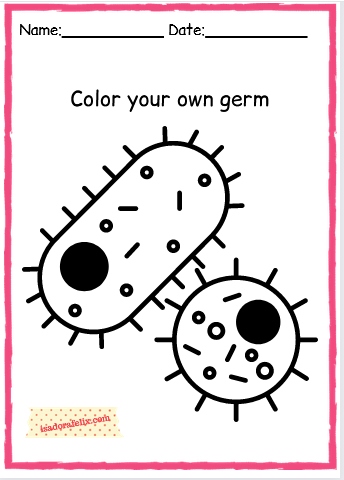 I hope you liked the inspiration for the activities. All the activities were made by me, Isadora, and tested in my class. If you want to get them ready to download, with no watermarks, ready to print and use, you can save yourself some bucks and get the whole BUNDLE HERE!
If you can't buy it now, which is totally understandable, use the images that I provided to get inspired and create your own activities. Either way, I hope this was useful to you and that you provide an amazing learning time for your kids! Learning about germs in pre-K is fundamental and hopefully this will help.
Happy learning and see you soon!